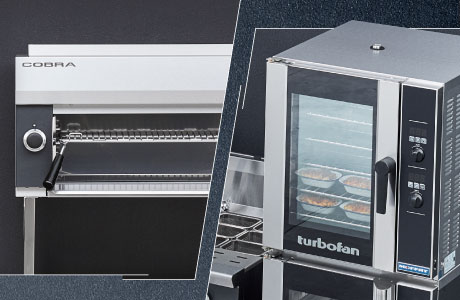 Expand your kitchen capabilities with these quick wins
Highlights
The hospitality landscape has changed markedly over the past few years. As the way we work continues to evolve, and our running costs increase, many establishments are finding they need to recalibrate their kitchens in order to remain competitive.
There are two key challenges facing restaurants and eateries right now. The first is a shortage of trained professional chefs and staff for their kitchens. The second is the increasing popularity of home delivery apps that have piled on more pressure for the kitchen to cope with. Many commercial kitchens are juggling an influx of online orders along with their usual number of dine-in customers. It's great that the tills are ringing, but your existing staff can only do so much.

Skilled labour shortages are likely to be an ongoing problem in the hospitality industry for a while, as businesses attempt to uphold a high standard of service with fewer hands on deck. In addition to these challenges, we are all very aware of the increased costs associated with meat and fresh produce, which have forced many establishments to raise their prices. As inflation and the mounting cost of living continue to put pressure on household budgets and discretionary spending, further price increases just don't seem feasible.

Patrons are looking for better value and are seeking more affordable menu choices at their favourite eateries. We need to find a better way to provide our customers with great food at an attractive price, and still make a healthy profit.

So, how do we address this issue?
There is an innovative way for commercial kitchens to bridge this gap between retaining staff and keeping menus affordable. New technology and functionality in the kitchen can help reduce the reliance on a brigade of trained professionals. You will still be producing tasty dishes and keeping your customers happy, while also improving your kitchen's efficiency and productivity.
The
Turbofan convection oven
is a great example of how kitchens can work around labour shortages.
We all know that ovens can cook, bake and roast – but why Turbofan?
Turbofan convection ovens offer flexibility to suit any kitchen. The range has been developed with three control interfaces, with manual, digital, and touch screen options available across all models. This gives you a number of usability preferences to suit different kinds of cooking and baking.
For example, the simplicity of our
20 Series convection ovens
makes them a great option for those wanting to add a bakery arm to their business with ease, without taking up too much space. The no-fuss program setting means it's easy to use for whatever you'll be baking. If all you need is an oven that will allow you to add simple bakes such as muffins, cookies, bread, and pastries to your menu, you don't need to spend big bucks on the latest bells and whistles.
The Turbofan 20 Series is an ideal choice, with a range of compact countertop oven capacities to choose from. You also get the added X-factor of ensuring an even, consistent bake every time, without cold spots in the oven, thanks to the Turbofan fan system and vitreous enamel oven liner. The vitreous enamelled oven chamber liners also make cleaning up a breeze at the end of a busy shift.
The Turbofan 30 Series are a great solution as a food service kitchen oven. Many people might think a combi oven is the perfect all-rounder in restaurant kitchen, but it also comes with a high price tag. The Turbofan 30 Series rises to this challenge – the
E32D4
and
E33D5
convection ovens can create the juiciest meats thanks to their moisture injection feature during the cooking cycle. If ease of use is important to you, go for the touch screen models – the icon-driven menu and pre-programmability will make life that little bit easier for your kitchen operators.
The
Turbofan EHT10-L extended hot holding cabinets
are another versatile option, allowing modern commercial kitchens to increase output without compromising on quality. These food warming cabinets are ideal for venues that are dealing with a higher demand in orders, be this planned or unexpected. The EHT10-L holds food for partial or full dish assembly, meaning you can prepare large quantities in advance and know that it will still be perfect when it hits the plate.

Make the smarter choice – think of Cobra
Affordability does not mean performance or quality is compromised – a motto that Cobra proudly holds true within the food service industry. The Cobra cooking range is just as robust and reliable as its sibling lineup, Waldorf and Blue Seal – tried and tested, made in New Zealand, with heavy-duty cast iron burners, stainless steel finish, and vitreous enamel oven liners. All this spells durability, making these products the workhorses of any demanding commercial kitchen.
There are more than thirty options in the
Cobra range
, and the modular design features a number of different sizes and combinations that will work with any kitchen floor space. You can choose from a combination of fryers, pasta cookers, woks, cooktops, barbecues, and ovens, to create the line-up that suits your menu. Fitting a griddle to your cooktop affords you even more flexibility. Simply select from the range of Cobra griddles as needed, with widths from 300 mm, for additional cooking options. You can also incorporate open cabinets for additional storage, which, as well all know, you can never have enough of in the kitchen.
Cobra
is suited to a large range of eateries and restaurants – in fact, they work well anywhere that requires solid power and cuisine flexibility. Best of it all, they come fully assembled with adjustable front feet and rear rollers for quick and easy placement – helping you save on installation costs.

You don't need a huge space or budget at all
Every piece in both the Cobra and Turbofan range is fully modular and can be adapted to a variety of cooking environments. They are designed to make cooking and baking easier and more efficient, whether you're running a café, restaurant, banquet, convenience store, bakery, or service station. Everything has been tried and tested to ensure premium perform in real-life applications.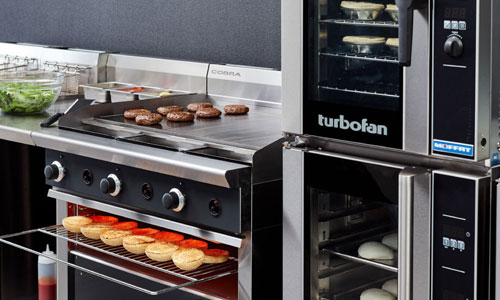 You don't need a huge space or budget to incorporate these products. Whether you need to mix up your layout, or add new pieces to your existing kitchen, you will be able to change your menu and produce perfectly-cooked food – all within your existing kitchen footprint!

What all this adds up to is greater efficiency and reliability in the ever-changing hospitality environment. You are free to focus on what you do best, while your Cobra and Turbofan pieces deliver high performance without the fuss.