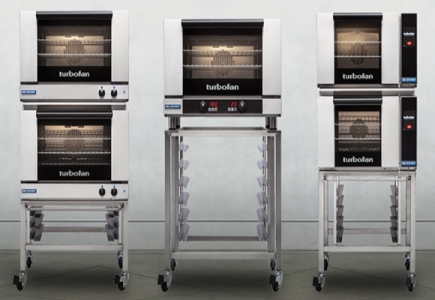 TURBOFAN 20 SERIES - The Next Generation Arrives
Highlights
The next generation arrives with the Turbofan 20 Series. The best performing ideas in the Turbofan range have been redesigned, redeveloped and reborn as a durable new series of convection ovens designed for ease of use, increased application and future-proof durability.

The new Turbofan 20 Series convection ovens have a fresh, contemporary, smart design that looks superior in any front of house application. It offers a new standard in reduced oven footprints, a broader product series and increased loading capacity to suit virtually any application.

True to the 20 Series tradition, all Turbofan 20 Series commercial ovens enable you to achieve consistent results and evenness of cooking or baking.




They all share these standard features:


Vitreous enameled oven chamber
Plug-in continuous oven door seal
Safe-touch vented drop down door seal
Stay-cool door handle
Heavy-duty door hinges
Easy clean door glass system
Anti-skid 50mm DIA. 76mm high adjustable stainless stell feet
100% recyclable packaging
For information about each individual model please click on the links below.