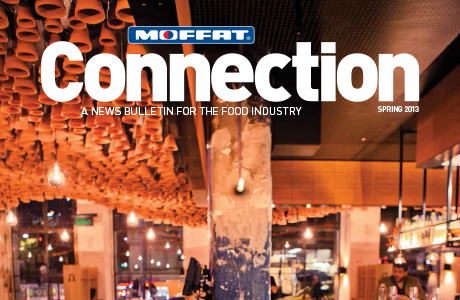 Moffat Connection-Spring Edition
26/Aug/2013
Publications
We welcome you to our winter edition of the Moffat Connection 2013 to share with you the news bulletin for the food industry around the world.

In this edition we feature a whole raft of exciting new updates and exclusive stories including: our following success in sponsoring and endorsing the latest innovative idea from MasterChef, the all new MasterChef pop-up restaurants, caught up with the famous gelato master Nick Palumbo about his success on MasterChef with the difficult (and incredibly delicious) Black Forest Cake pressure test, we had an exclusive chat George Calombaris as he took us for a peak around his brand new restaurant Gazi, Moffat and Carl Harwin, founder and CEO of the famous WowCow frozen yoghurt talk frozen yoghurt and so much more.

We love to hear your feedback so please feel free to leave a comment below or contact us via our online enquiry form.

View the brochure online via our new online page turner or simply click on the "Download brochure" link at the bottom of the page to download and print your own copy. We hope you enjoy this edition!



Moffat Connection 2013 - Spring Edition
Posted on 26/08/13
---
Download Materials
---

Download brochure